If you are looking for a low fee, low interest credit card that comes with exciting perks, take a look at the Bank of America credit card offerings. They provide some of the best credit cards on the market with some of the lowest APR's. Continue reading to learn more about the BankAmericard® credit card and how you can apply online today.
Features & Benefits of the BankAmericard® Credit Card
There are various benefits you can enjoy with a BankAmericard® Credit Card. Some of which include:
No annual fee, ever

Low APR – pay down your balance faster

No penalty APR for paying late

Total security – your card is protected with $0 Liability Guarantee for fraudulent transactions and chip technology for enhanced security

Free FICO updates every month so you can keep track of your credit rating
Along with this, you will get free access to education on subjects like how to use credit cards responsibly, how to budget and more.
BankAmericard® Credit Card Eligibility
To apply for a BankAmericard® credit card, you must be at least 18 years of age and resident of the United States. You must also have a Social Security Number. To determine your eligibility and credit card limit, the bank will request proof of income in the form of pay-slips or tax documents. They will also check your credit score.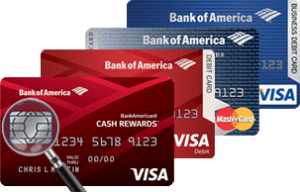 How to Apply for BankAmericard® Credit Card
If you are eligible, applying for a credit card is very simple. You can complete your BankAmericard® credit card application in just a few minutes using the online application form found on the Bank of America website. Once you submit all the required information, you will hear back within 1 minute regarding whether or not your application has been deemed successful.
BankAmericard® Credit Card Fees & Charges
0% APR for the first 15 billing cycles

Standard APR of 15.24 to 25.24% applies after 15 billing cycles, based on your creditworthiness

$0 Intro balance transfer fee for the first 60 days of opening an account

3% (min. $10) for future balance transfer fees

$0 annual fee
Conclusion
Overall, if you're looking for a low interest credit card that can help cover your expenses without putting another hole in your pocket, the BankAmericard® credit card is worth taking a look at. Head to the Bank of America website and apply today to begin taking advantage of low introductory fees and high security.