For people who hunt for privileges, the Axis Bank Privilege Card is an option worth considering.
For quite some time, Axis Bank offers its Privilege Card, a Mastercard-powered credit card that targets people who love travelling. Aside from booking flight and hotel accommodations in different places, cardholders can also get cash backs and reward points from their purchases in-store and online.
Axis Bank Credit Cards
Axis Bank offers a diverse set of credit cards for its customers. Each of these cards suits their unique spending requirements and preferences. These are divided into different categories such as shopping, travel, and rewards. One of these is the Axis Bank Privilege Card.
The Axis Bank Privilege Card belongs to the travel category, meaning that cardholders would benefit from this card if they often travel for work or leisure. Customers of Privilege Card can get many benefits that are specified below.
Axis Bank Privilege Card Benefits
Upon activation, Axis Bank Privilege Card customers will get INR5,000 voucher and eight complimentary access to lounges at selected airports within India. They can double these benefits once they spent a total of INR250,000.
Cardholders also get 3,000 eDGE points every time they pay their annual fee, which can be waived if they spent more than INR400,000.
Customers can also have a chance to undertake adventures during weekends through the bank's Extraordinary Weekends website. Using the site, they can choose their weekly escapades for themselves and their families.
The Axis Bank Privilege Card can also provide fuel surcharge refunds if cardholders spent petrol products with transactions between INR400 to INR4,000.
However, to avail these privileges, customers may need to spend beyond the usual household expenses.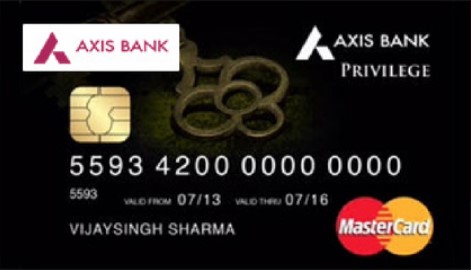 Axis Bank Privilege Card Application Process
For people who want to apply for the Axis Bank Privilege Card can go to the bank's website and fill out the application form. Once submitted, a bank representative will call to ask for details.  Applicants may need to provide proof of identity that they are between 18 and 70 years old and an Indian citizen or permanent resident. Axis Bank also requires card applicants to have a yearly income of at least INR600,000. The bank only considers customers with a good credit standing.
Once approved, Axis Bank will provide its Privilege Card customers with a credit limit of around INR100,000. This figure may go higher or lower based on creditworthiness, financial capacity, and spending behaviour.
Fees and Interest Rates
The annual fee for this card is INR1,500. Cardholders must also take note of the cash advance fee worth INR250 or 2.5% of the amount of each transaction, whichever is higher; and a late payment fee from INR300 to INR600, which will depend on the balance.
The interest rate for this card is 2.95% every month or 41.75% every year. Unlike other cards, it has no interest-free period.
In summary, the Axis Bank Privilege Card is ideal for people who frequent spenders and travellers who want discounts for their expenses. Credit card experts recommend people who spend less than INR250,000 to apply for a general-purpose card instead.