With the drive for smarter financial management, owning a credit card is essential now more than ever. Citibank has a lot of credit card options which can fit your needs and lifestyles. If you are looking for a card that rewards you every time you spend, check out what the bank has to offer:
Citibank Cashback Credit Card Features and Benefits
Citibank offers several advantages for their customers. One of these benefits is the easy payment methods the Citibank Cashback Credit Card offers. If you want cashless transactions, this credit card offers a more convenient option for you. However, this only works on access points that have the contactless symbol on them, so make sure that the establishment has one.
Aside from easy cashless payments, this card prides itself on its cash back program. When you use this card for transactions such as movie ticket purchases and telephone bill payments, you are entitled to receive 5% cash back. Other utility bills paid via the Citibank Online Bill Pay also give you 5% cash back.
Keep in mind that you can only use this feature once you register with the Bill Pay facility, so make sure to take the time to register. Moreover, take note that cash backs from movies, telephone and utility transactions are limited to Rs 100 every month per category.
Your cashback will automatically reflect on your statement credit. When wish to redeem, you can do so in multiples of Rs 500. Should you covert your Citi Cashback Card to another Citi Bank offering or you cancel your card, you cash backs will be invalidated.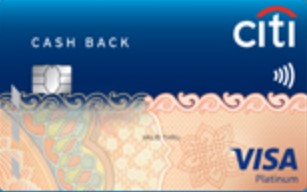 Getting a Citibank Cashback Credit Card
The application for this card is simple. You can do so using their online process through their website or by visiting a branch near you. During your application, you need to provide personal details such as your legal name, date of birth, your PAN ID and your nationality. Your professional details are also needed, including your profession, company name and designation. You also need to present your address, email address and contact number for communication.
Other details you might need to provide include income information, valid IDs and utility bills. Your credit limit can depend on your financial background and credit status.
Citibank Cashback Credit Card Fees and Charges
For those interested in getting this card, remember that you will have to pay an annual fee of Rs 500, which will be billed in the first month after the card's issuance. After that, this will be charged in increments every year. For your interest rate, know that this will depend on your spends, utilization of credit limits, consistent repayments and other similar criteria. The lowest you can get is 37.2%, whilst the highest is 42% every year.
Any cash advances will be charged with 2.5% of the amount you withdrew, with a minimum of Rs 5000. Should you fail to pay your dues on time, you can be charged Rs 300 (for balances below Rs 10001), Rs 600 (for those within Rs 10001 to Rs 25000) and Rs 950 (for those beyond Rs 25000).
With a Citibank Cashback Credit Card, you can save as you spend. To get one for yourself, apply today!