Ordering a Citibank Indian Oil Credit Card allows users to earn points that they can use for huge discounts the next time they gas up. They can also use the points to get huge savings on their daily expenses, such as groceries. This article aims to teach people to request a Citibank Indian Oil Credit Card.
By holding a Citibank Indian Oil, consumers can make cashless purchases. Since Visa powers this card, users can use it for their online and offline stores. Cardholders can also easily book flight and lodging accommodations to any city across the world. What's more, they can enjoy generous rewards and cash back as long as they comply with the bank's requirements.
Citibank India Credit Card Types
Citibank India has different types of cards for different people with unique needs and lifestyle. Customers can choose from the basic Citi Cash Back Credit Card to the elite Citi Prestige Credit Card. Each of these cards has its specific set of features and benefits that cater to a particular type of people. One of the banks prestigious cards is the Citibank IndianOil Credit Card.
The Citibank IndianOil Credit Card is designed for people who frequently travel through their vehicle. Aside from this purpose, Citibank also provides various advantages and perks for this credit card.
Citibank IndianOil Credit Card Benefits
As highlighted above, this card has various reward points — called turbo points — every time they fuel up their cars. Motorists get 4 turbo points for every INR150 of purchased fuel at any IndianOil outlets. Hence, the means that the more a driver fills up the fuel tanks, the more discounts they get. This card acts as a loyalty card to the petrol company.
Cardholders can also convert your Turbo Points to in-store or online exclusive products of Citibank partners offering lifestyle, leisure, and travel products. Turbo points do not expire, meaning cardholders can collect them for months and years for bigger discounts or better rewards.
This card provides its customer personal concierge service. Cardholders can plan a party, send flowers, book dining reservations, and other services by calling the bank's concierge.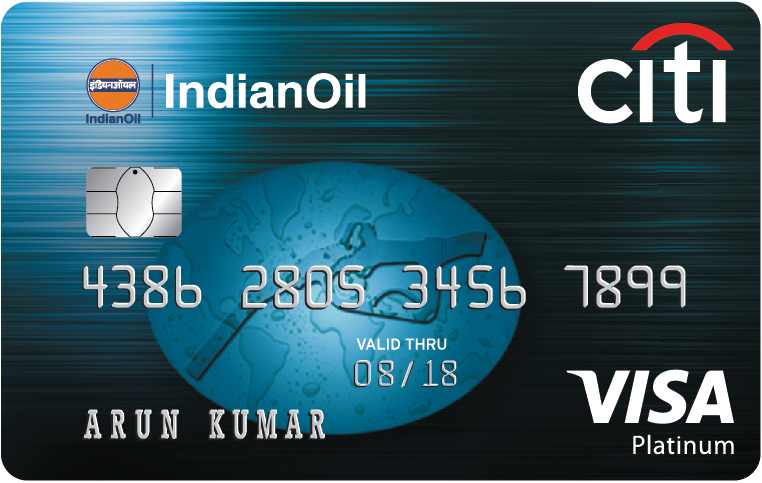 Citibank IndianOil Credit Card Requirements
Interested customers can request the Citibank IndianOil Credit Card through their website. For a smooth application process, Citibank advises cardholders to comply with its requirements first before applying. The interested customers must be above 18 years old and Indian residents, which should be proven by presenting their valid IDs or other documents. The bank may also require them to show proof of income.
Citibank only considers applicants with a CIBIL score of 700 and above for this card type.
Once Citibank approves the application, applicants can get a credit limit of INR25,000 or above, depending on their creditworthiness and financial capacity.
Fees and Interest Rates
Citibank waives the annual fee of INR1,000 if cardholders who spend more than INR30,000 in a year using the card. The bank also charges a cash advance fee worth 2.5% on the amount withdrawn, or INR500, whichever is higher and a late payment fee ranging from INR300 to INR950.
Citibank IndianOil Credit Card has an interest rate of 3.25% monthly or 39% annually.
Overall, Citibank IndianOil Credit Card is a perfect choice for motorists who want to get huge savings on petrol.