In a globalism-inclined time, more and more people travel across the globe for personal and business trips. Frequent travellers need access to a rewarding mode of payment, which they can access wherever they are. Citibank has an option that can help clients travel with peace of mind. Read on to know more.
Citibank Premier Miles Credit Card Features and Benefits
The bank offers the Premier Miles Credit Card for consumers who frequently travel. This card enables cardholders to get 10,000 Miles when they spend their first Rs 1,000 and above using the PremieMiles Card. However, consumers should take note that this can be availed only when the transaction is made within 60 days after the card is issued. A bonus of 3,000 Miles is applicable when the card is renewed.
Aside from this, consumers who use their cards every time they book flights and hotels will receive 10 Miles for every Rs 100 they spend. Every Rs 100 spent on any airline transactions merits 10 Miles, while every Rs 100 used on other spends is rewarded with 4 Miles.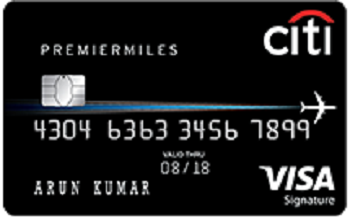 Getting a Citibank Premier Miles Credit Card
The bank offers two ways to start applications for this credit card: by visiting their website or by getting in touch with the CitiPhone services. Upon using one of these two options, applicants can expect a representative of the bank to contact them in 2 to 3 business days.
Interested customers are advised to prepare the necessary documents to start the process. This includes a passport size colour photograph, proof of address, proof of identity and a signed consent form. For add-on cards, the documents required include an accomplished supplementary card application form, proofs of identity and age, as well as a passport size photo.
However, the credit limit will depend on the parameters set by the bank. The criteria can include the client's employment information, credit status and financial standing.
Citibank Premier Miles Credit Card Fees and Charges
Interested applicants can expect a number of fees and charges, as with all credit card offers. Upon the card issuance, the bank charges an annual fee of Rs 3,000 during the first month. After this, the annual fee will be charged in increments every 12 months. An interest rate also applies for the Citibank Premier Miles Credit Card, which can range from 37.2% to 42% annually. This percentage with depend on the customer's usage, repayment behaviours and expenditure.
One thing clients should keep in mind is the fact that there are fees whenever they take cash advances. This fee equals 2% of the amount withdrawn, with a minimum of RS 300. Aside from this, late payment fees will be charged when customers fail to pay their dues on time.
The Citibank Premier Miles Credit Card is a viable option for people who like to fly from one place to another. With this card, it is possible to earn Miles points and redeem rewards, without sacrificing affordability and accessibility.