The HDFC Diners Premium let frequent travellers book their airline tickets and hotel accommodations across 150 airlines and choice of hotels. More than this, this credit card allows cardholders to enjoy rewards points on international spends and redeem airline miles for travels in and around the country.
Aside from these benefits, cardholders will also get the chance to enter exclusive loungers around the world. Numerous advantages await customers who intend to sign up for the HDFC Diners Premium program.
Features and Advantages of the HDFC Diners Premium Credit Card
HDFC offers the Diners Premium Credit Card for seasoned travellers and travel enthusiasts alike. The bank targets individuals who aim to get affordable airline tickets while earning rewards points and airline miles with every transaction. For one, users are entitled to earn 4 rewards points for every Rs. 150 spent on retail. There is a welcome benefit of 2,500 rewards points for users.
This credit card provides 10 rewards points on international spends. Cardholders can redeem their rewards points for booking their air tickets or paying for their hotel accommodations in more than 150 airline partners and hotel locations both on domestic and international locations. Bear in mind that 1 reward point is equivalent to 0.50 AirMile. Miles can be redeemed via Jet Airways or Singapore Airlines.
Frequent travellers will also gain access to leading exclusive loungers around the world. Cardholders will be given up to 6 complimentary access to more than 700 airport lounges per year. Users are reminded that all visits that exceed the complimentary limit will be charged with the prevailing lounge rate inclusive of taxes.
While customers can gain points with every transaction, a downside would be that points are only valid for 2 years from the date of accumulation. This is a point that needs to be considered, particularly against other credit cards that offer points that do not expire.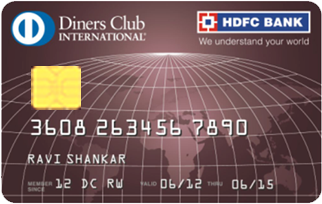 Getting an HDFC Diners Premium Credit Card
Interested parties can check HDFC Bank website for more details.
To be eligible, salaried applicants should be between the ages of 21 and 60 years old, with a net monthly income of at least more than Rs. 60,000. On the other hand, self-employed individuals should be between the ages of 21 and 65 years old and have an ITR showing that they earn more than Rs. 7.2 Lakhs per annum.
Credit card applications under the HDFC Diners Premium will be given a credit limit starting from Rs. 10,000 depending on applicant's credit standing.
Fees and Charges for the HDFC Diners Premium Credit Card
The first year and the renewal membership fee is Rs. 2,500. However, the renewal fee can be waived for the succeeding year is cardholders spend Rs. 3 Lakhs within one year.
A cash advance fee of 2.5% and a late payment charge ranging from Rs. 100 to Rs. 750 may also be applied.
In conclusion, travellers who wish to earn rewards points, redeem airline miles, and get complimentary lounge access can benefit from the HDFC Diners Premium Credit Card.