HDFC provides Indian citizens access to hassle-free services and exclusive offerings with its HDFC Regalia Credit Card. With this credit card, frequent travellers around the world will gain access to complimentary airport lounge passes through the priority pass membership.
Aside from this offering, customers will be given the chance to get the lowest foreign currency rates as well as a slew of bonus points with every transaction. These points can be redeemed in a variety of lifestyle options designed to fit every budget.
HDFC Regalia Credit Card Features and Benefits
As part of their welcome offers, HDFC helps new customers earn 10,000 reward points. However, this is only applicable is users who spend Rs. 5,00,000 within one year. Cardholders can also earn an additional 15,000 reward points when they make transactions of Rs. 8,00,000 within the same year. Under this coverage, users are to earn 4 reward points for every Rs. 150 spent on their credit card.
To encourage customers to sign up for their credit card, HDFC provides the lowest foreign currency mark-up fee, making international transactions garner a 2% interest rate at the most.
In line with their exclusive line of privileges, the HDFC Regalia Credit Card (available in Visa) allows cardholders to gain complimentary airport lounge access. Through this initiative, clients will gain preferential access to over 1,000 airport lounges around the world.
Under this credit card, exclusive dining privileges will be extended to cardholders. This includes up to 15% off discounts at select premium restaurants across the country.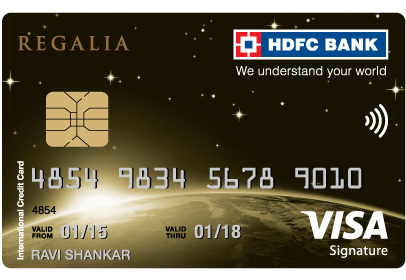 Applying for an HDFC Regalia Credit Card
Interested applicants can apply through HDFC's website using their online submission form or by going to a branch near them. However, there are strict eligibility measures that need to be addressed. For salaried individuals, these include being between the ages of 21 and 60 years old to apply and having a gross monthly income of at least Rs. 1,20,000. Meanwhile, self-employed individuals should be between the ages of 21 to 65 years of age with an annual income of Rs. 12 Lakhs.
During the period of application, applicants will be asked to provide proof of their identity, proof of billing address, employment details, and salary information. Once HDFC approves an application, cardholders can get a credit limit starting from Rs. 10,000 depending on the applicant's credit score.
HDFC Regalia Credit Card Fees and Charges
HDFC charges cardholders an annual membership fee of Rs. 2,500. However, if cardholders spend Rs. 3 Lakhs in one year, their renewal fee will be waived. On top of this, the bank also has a monthly interest rate of 3.49%.
HDFC also implements a late payment charge ranging from Rs. 100 to Rs. 750 depending on your statement balance as well as a cash advance fees of 2.5% of cash advanced.
An HDFC Regalia Credit Card is the perfect choice for travellers who wish to relax whilst travelling from one place to another. Aside from travel privileges, this card is also great for individuals who are looking for low-interest rates.