In a time when travelling is becoming more and more pursued and necessary, most consumers want a credit card that rewards them for their travel-related expenses. Many are also looking for an option that gives travel benefits as rewards. Jet Airways has an offer that can satisfy these needs.
Jet Airways American Express Credit Card Features and Benefits
Jet Airways offers a welcome gift for new cardholders. This bonus amounts to Miles benefits amounting to 10,000 JPMiles, which can be credited within 60 days after the first transaction using the card. A special offer is also on the table, allowing new holders to get 2,5000 JPMiles just by applying via their website (cards.jetprivilege.com).
Aside from these, clients can get up to 5,000 Bonus JPMiles when they renew with the company. However, it is important to note that the bonus points will be credit 90 days after the annual card renewal date, as well as after paying the fees.
For earning JPMiles during everyday transactions, customers can get 8 JPMiles for every INR 150, except for fuel, insurance, utilities and cash transactions. Sixteen JPMiles can be earned per INR 150 used to purchase revenue tickets on jetairways.com.
Other advantages the card has to offer includes travel discounts, access to Premiere counters, excess baggage allowances, lifestyle perks and bank privileges.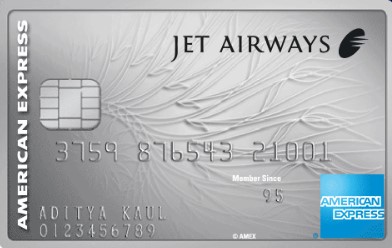 Getting a Jet Airways American Express Credit Card
Those who want to apply for this card can go directly to their website. However, they should be ready to provide basic information including their full legal name, email address, mobile number, date of birth, PAN number, and current residential address. Financial and employment details should also be presented including the net annual income, employment status, company name and address, as well as the company's contact information.
Customers are encouraged to take note that the credit limit can depend on these details.
Jet Airways American Express Credit Card Fees and Charges
Ordering this card means that the cardholder will be responsible for paying various fees and charges. Upon getting the card, customers should know that there are annual fees to pay. With Jet Airways American Express, clients will be charged an annual fee of INR 5,000 for the first year, with the addition of applicable taxes. For renewals, the annual fee is INR 10,000, also plus applicable taxes.
According to the American Express website, holders of this card can get an interest rate of 3.35%. In case they default, the rate will be 3.75%.
Clients who fail to pay their dues on time will incur late payment charges. This will be 30% of the minimum amount due, with a minimum of INR 500 and INR 1,000. Cash withdrawals will be charged 3.5% of the amount withdrawn, with a minimum of INR 25o for every withdrawal.
With Jet Airways rewards related to trips, more and more travel enthusiasts can benefit from having a card that is worthwhile, accessible and convenient. For interested clients, visit their website to know more.