A credit card that gives customers reward points and packages as welcome gifts, the SBI Air India Signature Card is a treat for travellers.
State Bank of India (SBI) offers SBI Air India Signature Card for frequent flyers. Through this Visa-powered card, the bank provides its cardholders with the best flight and accommodation deals anywhere in the world aside from making their usual online and in-store purchases. They can also get tons of advantages such as reward points and cash back.
SBI Credit Cards
SBI has a complete line of credit cards to interested customers, each catering to specific customers with distinct spending habits and lifestyle. The bank has cards for lifestyle, rewards, shopping, and travel, one of which is the SBI Air India Signature Card.
The SBI Air India Signature Card is one of the cards exclusive for professional and leisure travellers. It is also packed with unique benefits such as the ones below.
SBI Air India Signature Card Benefits
The SBI Air India Signature Card provides cardholders 20,000 Membership Rewards Points that customers can receive 15 days from the payment date of the annual fee. Customers can convert these to travel discounts and privileges. Cardholders will also become a complementary member of the Air India Frequent Flyer program – Flying Returns.
Customers can also get 4 Reward points for every INR100 spent using the card at any store. They can also earn 10 Reward Points for every INR100 spent on Air India tickets using this card, booked through the airline's booking offices or its call centres. They can convert these points to Air India miles for additional flights.
Cardholders can also enjoy access to more than 600 airport lounges all over the world with complimentary Priority Pass Program. They can also receive 1% fuel surcharge discount in all petrol outlets.
But there is a caveat, cardholders can only avail these if they can renew the card by paying an annual fee of INR4,999. This is quite huge, compared to other cards that offer the same perks.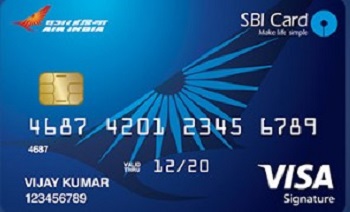 SBI Air India Signature Card Application Process
Interested individuals can request the SBI Air India Signature Card online by clicking the apply button and filling out the application form. SBI may require applicants to provide proof of identity that they are above 18 years old and a citizen or permanent resident of India. The bank will also request proof of income, and IT returns. Cardholders also must have a good credit history and must have a working email address.
Upon approval, SBI Air India Signature Card customers can get a credit limit of around INR100,000, which may be higher or lower depending on their credit score, spending behaviour and financial capacity.
Fees and Interest Rates
Aside from paying a relatively huge annual card fee, cardholders should also shoulder a hefty cash advance fee INR300 or 2.5% of the amount of each transaction, whichever is higher and a late payment fee from INR100 to INR950, depending on the balance.
This card has an interest-free period of 20 to 50 days. After this, cardholders will pay a hefty interest of 3.35% monthly or 40.2% yearly.
In summary, the SBI Air India Signature Card is best for customers who want tons of reward points from their spending and travels using the card.