Travelling by train is common for India's workforce. Right now, there are tons of credit cards offering premium benefits and features to those riding the trains on a daily basis. The SBI IRCTC Credit Card, for example, offers 1.8% off on transaction charges on railway ticket bookings. When used for payment, cardholders can get exclusive discounts on tickets, accommodation and other tours.
Read on to learn how you can apply for this credit card.
Features of the SBI IRCTC Credit Card
SBI, in partnership with the Indian Railway Catering and Tourism Corporation, introduces a new credit card that can benefit constant travellers by train. Although the reward program for travellers is tempting, some of its features are already common with other Indian credit cards. In this article, we're going to look deeper into the perks that come with this card and find out if this is worthy of your money.
SBI claims that the SBI IRCTC Credit Card is a platinum card made for pure platinum privileges. Although this claim can be true to its word, thanks to its travel and value back benefits, cardholders are also expected to pay bigger annual fees compared to other cards.
Welcome gifts that come with credit card includes a 350 activation bonus points on a single transaction of Rs 500 or more, within 45 days of card issuance. But there's a catch because fuel and cash spend are not included in this promo.
If the SBI IRCTC Credit Card is used, cardholders can also get be exempted from the 1% fuel surcharge across all petrol pumps in India. Then again, there's also a minimum spend before you can enjoy this reward. Transaction amount must be at least Rs 500 up to Rs 3,000.
If you're after worldwide acceptance, this credit card is powered by Visa.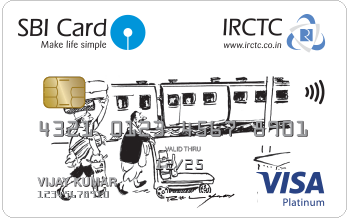 SBI IRCTC Credit Card Application
To apply for this credit card, you need to comply with the criteria set by SBI. First, you must be on the age bracket of 21 to 65 years old, employed and has a stable credit history. You can apply online, visit the nearest branch or call SBI's hotline. Supporting documents are also required particularly an identification card or passport, address proof, salary slip and latest ITR along with bank statement for the last 3 months.
For the credit limit, SBI will determine the amount depending on an individual's capacity to pay, credit score and credit history. The amount is usually between Rs 500 to Rs 2,500 or higher, depending on your score.
Fees and Charges of the SBI IRCTC Credit Card
Since this credit card is at the platinum category, expect to pay slightly higher annual fee compared to classic cards. For the annual fee, you are charged Rs 500 and a renewal fee of Rs 300 for the succeeding years. There are also other charges that you need to take note of, like the cash advance fee of 3.35% of the total cash advance, late payment fee of Rs 200 and interest rate of 3.35% on top of your bill.
The SBI IRCTC Credit Card is suited for individuals who are in need of a card that can help earn discounts for train tickets, booking accommodations and fuel. Before applying for this card, it's best to reflect on your commute expenses and find out if it's worthy to pay Rs 500 just to have a credit card.