SBI aims to give customers unparalleled privileges and a wealth of benefits on hand with the SBI Signature Credit Card. Aside from exclusive access to a Signature Book of Rewards, unlimited rewards points, and global acceptance, this credit card also allows users to get a 2.5% fuel surcharge waiver.
Fit for individuals who value flexible payment terms, easy card access, and protected online transactions, the SBI Signature Credit Card is certainly worth checking out. Read on to find out more about what this card has to offer.
SBI Signature Credit Card Features and Benefits
One of the selling features offered by the Signature Credit Card (available in Visa) is its rewards plan. Through this initiative, customers can earn points by shopping from a list of exclusive brand partners. Every Rs. 100 spent will garner 2 rewards points. For dining, departmental stores, grocery, and international transactions, 5 rewards points will be earned for every Rs. 100. For annual spends that exceed Rs. 2 Lakh, a minimum of 10,000 bonus reward points will be given.
Rewards points can be used to pay for credit card balance or choose from a wide range of experiences from the Signature Book of Rewards.
Under the SBI Signature Credit Card, welcome gifts and e-gift vouchers from Yatra.com, Hush Puppies, Bata, Marks and Spencer, and many more with a value of Rs. 5,000 will be given to users. Cardholders can also enjoy freedom from paying the 2.5% fuel surcharge across all petrol pumps.
Cardholders will be provided complimentary lounge access via the Priority Pass Program. Through this offering, users will have access to 600 airport lounges across the world.
Other lifestyle advantages that this card offers include discounted hotel, resort, and villa accommodations, exclusive services across luxury hotels, and access to discounted rates on car rental programs.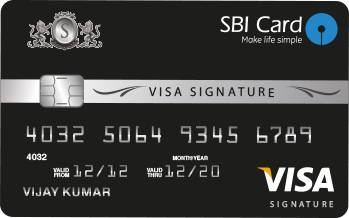 SBI Signature Credit Card Application
Interested applicants must be between the ages of 21 and 65 years old. Applicants must also have a stable income and a good credit history to back their application. Customers can course their application by going through their nearest branch or through filling out the online application form.
Documents that will be required upon application include a valid proof of identification, proof of address, employment details, and income information. Approved applications will get a credit limit starting from Rs. 500.
SBI Signature Credit Card Fees and Charges
Dubbed as an elite credit card, the SBI Signature Credit Card has a slightly higher annual fee at Rs. 4,999. However, there are no charges for supplementary credit cards. The interest rate for this credit card goes up to 3.35% per month, reaching up to 40.2% per year.
For delayed transactions, a late payment fee ranging from Rs. 100 to Rs. 750 will be applied. Other charges customers need to consider include the cash advance fee of 2.5% of the transaction amount and an over-limit fee of 2.5%.
Overall, the SBI Signature Credit Card is a great choice for customers who want access to exclusive rewards, complimentary lounge access, and maximum savings in all their transactions.