These days, getting your money's worth is essential. Not only does it allow you to save money in the long run, but you also get to spend your hard-earned cash in the right way. With the prices of everything in the market constantly skyrocketing, getting the best deals is certainly in your favour.
With the Standard Chartered Manhattan Credit Card in hand, you can get rewards points every time you spend and even cash back on your grocery transactions. Interested in what this card has to offer? Let's take a closer look.
Standard Chartered Manhattan Credit Card Features and Benefits
Available in Visa, the Standard Chartered Manhattan Credit Card gives you access to 5% cash back at supermarkets. This is perfect if you are planning to buy your family's needs for the week and or if you simply want to maximize your savings. Whatever it is, this credit card allows you to save by giving you 5% cash back per INR 150 spent when you shop at the supermarket or at the department store. Meanwhile, the Manhattan Credit Card also gives you 3 reward points for every transaction on all other categories.
Just like its other credit card offerings, Standard Chartered Bank ensures that you get into their Good Life programme. This means receiving exclusive discounts and offers on dining, shopping, travel and many more.
As part of their welcome offer, you can get INR 2,000 BookMyShow vouchers on your first transaction within the first 90 days of opening your account.
The benefits of this credit card definitely provide bang for your buck deals for all your needs. However, the annual fees and the annualized percentage rate for this card are quite high, making these factors that need to be considered. Take a look at the rates and try to gauge if these are well within your budget.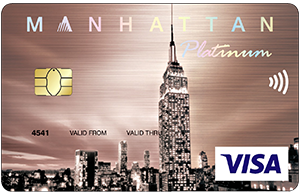 Ordering a Standard Chartered Manhattan Credit Card
Requesting your Manhattan Credit Card is easy. To do this, head on to the Standard Chartered Bank's website, click apply now and fill out the application form online.
To qualify for this account, you must be between the ages of 21 and 65. You should also have a stable monthly income.
The documents you need to have with you include a valid ID, a proof of address, financial documents such as salary slips or IT returns, and one recent passport-sized photograph.
If approved, you will be given a credit limit starting from Rs. 5,000.
Standard Chartered Manhattan Credit Card Fees and Charges
As stated, there is a high annual fee of Rs. 999 for this credit card. However, supplementary cards are free of charge. Likewise, cash transactions will garner an interest rate of 3.49% per month (or an APR of 41.88%).
Other charges you might want to consider include the cash advance fee of 3% of the amount withdrawn, the late payment charge ranging from Rs. 100 to Rs. 800, and the over limit fee of Rs. 500. Bear in mind that overseas transactions will be charged with a 3.5%.
If you value cash back offers and rewards points, check out the Standard Chartered Manhattan Credit Card today.