Finding a credit card that gives you hundreds of perks and rewards has never been easier. Standard Chartered has a lot of valuable cards in their arsenal. Interested in learning more? Read on and find out about their various options:
Standard Chartered Super Value Titanium Credit Card Features and Benefits
Standard Charters offer is valuable especially because of its cashback and rewards program. Just by using this card, you can get 5% cashback on fuel, phone and utility bills. Moreover, you will gain 1 point for every INR 150 you spend on all other transactions. Your cashback can be transferred to your account or you can use it for Extra Value Offers to maximise its potentials.
When you redeem your points, you have access to hundreds of entertainment, home, dining, fashion and electronics establishments. You can even use it to book your next holiday trip.
Other benefits of having this card include access to supplementary cards and contactless transactions, making payments faster and more convenient.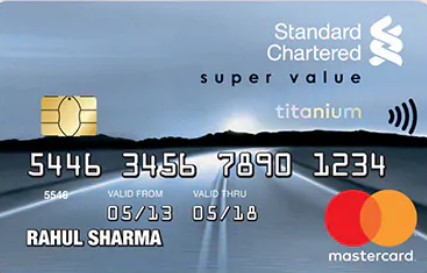 Getting a Standard Chartered Super Value Titanium Credit Card
Ordering this card is hassle-free. However, there are some eligibility requirements you need to fulfil. First, you must be 21 up to 65 years old, with a stable monthly income. In addition, you must reside in credit cards sourcing cities, or your branch should be within one. You should also be ready for credit and policy checks to be conducted by the bank.
During your application, you will be asked for proof of your identities such as your Aadhar card, passport, PAN card, voter's ID and other valid government IDs. A proof of your residence is also required which can include your driving license, utility bills, rental contracts and other similar documents.
The bank also needs to see your financial documentation. If you are a salaried individual, just present your latest monthly salary slip. For self-employed entrepreneurs, your latest income tax return complete with a computation of your income will suffice. You can also submit your certified financials and business continuity proof. Self-employed professionals can also submit the same documents, as well as your credit card statement from other banks. Take note that your credit limit can change depending on several factors and can depend on your income and credit background. If you want to know more, head on to Standard Chartered website.
Standard Chartered Super Value Titanium Credit Card Fees and Charges
When you avail of this card, you can expect a fee of INR 750 for the first year and the same amount for the rest of your membership. Aside from your annual fee, you will also need to pay interests. Standard Chartered uses annualized percentage rates. As a cardholder, you can get an annual percentage rate of 41.88% from your monthly interest rate of 3.49%. This applies to all cash transactions.
If you plan to withdraw cash from automated teller machines, keep in mind that you will be charged 3% of the amount you withdrew, with a minimum of INR 300.
Any missed payments will result in late payment charges amounting to INR 0 (for balances below INR 101), INR 100 (for balances within INR 101 and INR 500), INR 500 (for balances within INR 500 and INR 5,000), INR 700 (for balances within INR 5,001 and INR 15,000), and lastly, INR 800 (for balances above INR 15,000).
There is nothing better than having a card that gives you the maximum value for your money. To get a Standard Chartered Super Value Titanium Credit Card, start your application today.