Halifax offers a wide range of credit cards for its customers. This bank allows users to gain access to a variety of privileges including flexible instalment plans and low representative rates.
Of their numerous offerings, the Halifax Flexicard Credit Card is an excellent choice for individuals on a budget. With its low-interest rate and numerous instalment plans, customers can enjoy shopping whilst spreading the costs of their purchases. To know more about this credit card, read on.
Features and Benefits of a Halifax Credit Card
Powered by Mastercard, this Halifax Credit Card highlights their low-interest rates. Under this credit card, users can enjoy purchases and balance transfers for a low representative rate of 6.4% APR (variable). At least 51% of successful applicants will get this rate, whilst other customers will be offered a variable rate of 14.9% APR. Also included under this offering is a 0% fee on balance transfers made within 90 days of account opening. After this introductory offer, a 3% fee will apply to balance transfers.
Another highlight of the Halifax Credit Card is its flexible instalments plans. The Flexicard provides affordable payment options to help customers spread the cost of big-ticket items into smaller monthly payments. To keep track of monthly payments, users can access the online repayment planner under Halifax. With this initiative, cardholders can set payment plans starting from £100. Remember, customers can only enjoy this promotional rate if they stay within their credit limit and if minimum monthly payments are met.
Halifax also provides this Flexicard Credit Card at no annual fees. Customers who are interested in trying out the services and range of advantages offered by the company can avail their card at no extra fees.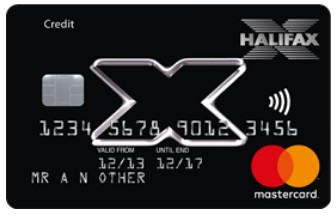 Applying for a Halifax Credit Card
Potential customers can gain access to the Halifax Credit Card through their online application form. The bank posts strict requirements for its applicants. For one, interested parties must be over the age of 18 to apply. In addition, they must also be a resident in the UK and have a steady stream of income. Likewise, a good credit history is essential since Halifax will conduct a credit check on all applications.
Documents that need to be presented include proof of identity, proof of billing address, contact information, and employment details. Applications approved under the Halifax Flexicard Credit Card will be given a credit limit starting from £500.
Fees and Charges of the Halifax Credit Card
As mentioned earlier, the Halifax Credit Card has no annual fees. The APR for this card is 6.4% for selected individuals, whilst the regular interest fee is 14.9% APR.
Delayed payments will also be charged £12, on top of over-limit charges that are also charged at £12. The bank also charges a cash transaction fee of 3% or a minimum of £3 for the transacted amount.
Getting a Halifax Credit Card is perfect for cardholders who want flexibility and affordability. With the Flexicard's low-interest rates and various payment terms, it is well worth considering this option.