For individuals who value saving, a credit card that highlights low-interest rates will certainly be appealing. Lloyds Bank provides a wide range of Platinum Credit Card choices designed to fit any lifestyle.
Of these offerings, one of the Lloyds Bank Platinum Credit Card options is the Low Rate Credit Card. Apart from offering low-interest rates, the card also comes with no annual fees and no balance transfer fees for the first 90 days. For more information, read on.
Features and Benefits of a Lloyds Bank Platinum Credit Card
As part of the platinum offerings, the Low Rate Credit Card gives cardholders access to a low representative variable APR of 6.4%. Under this plan, at least 51% of applicants will be given this rate, allowing users to shop with ease. However, the variable APR will only be given to applicants who have a good credit rating. Otherwise, a higher yet still affordable 14.9% APR will be given.
Under this account, customers will also be given the chance to make balance transfers within 90 days of opening their account. During this period, the balance transfer fee of users will be reduced from 3% to 0%. After this welcome offer, the 3% balance transfer fee will be implemented.
Lloyds Bank offers this Platinum Credit Card at no extra cost. There is no annual fee for the Lloyds Bank Platinum Low Rate Credit Card. However, it is best to note that cardholders will lose their promotional rate should they exceed their credit limit or if they fail to make their minimum monthly repayments on time.
Powered by Mastercard, this credit card is accepted to over 43 million locations around the globe. Users can manage their expenses and track their spending through the Lloyds Bank mobile banking app, internet banking platforms, and through free text alerts.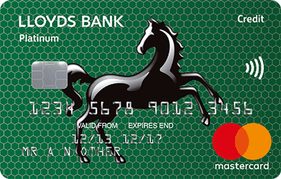 Application for a Lloyds Bank Platinum Credit Card
Interested applicants should take note that the Lloyds Bank Platinum Credit Card can only be applied for online. To do this, prospective clients are asked to fill out an online application form.
Customers must fulfil the bank's eligibility standards. These include being over the age of 18, being a resident in the UK, having a regular income, and bearing good credit history. Within five minutes, a decision will be given to applicants.
If approved, cardholders will be given a credit limit starting from £250.
Fees and Charges of a Lloyds Bank Platinum Credit Card
The Lloyds Bank Platinum Low Rate Credit Card has no annual fee. Meanwhile, there is a variable interest rate ranging from 6.45% to 14.94%.
Outside of the promotional offers, there is a cash transaction fee of 3% or a minimum of £3, a transfer fee of 3% with a minimum of £3, a late payment charge of £12, and an over-limit charge of £12.
Overall, the Lloyds Bank Platinum Credit Card is a great choice for individuals who value saving money whilst dealing with everyday transactions. With this, customers can take advantage of low-interest rates and other exclusive offers.