Customers in search of an all-around card can finally have a great option with Virgin Money. Those looking for accessible and rewarding cards with minimum payments might want to consider checking the bank's cards. Virgin Money offers a variety of All Round options ranging from 12 to 28 Month credit cards.
Virgin Money All Round Credit Card Features and Benefits
The 26 Month All Round Credit Card is a feasible option for individuals looking for a card that lets them earn while they spend. The Virgin Money Back program gives varying cash back rates for different purchase categories. Fashion spends on eBay and Debenhams will be merited 0.9% and 2.8% cash back, respectively. Other categories that qualify for this program include electricals, leisure, food and beverages, and travel.
Companies eligible for this offer include Apple, Currys PC World, Very, Marks & Spencer, and Booking.com. Customers should make sure that they have signed in to virginmoneyback.com before they can earn cash back.
Aside from the Virgin Money Back program, clients are given access to a great number of access points via card and contactless payments (up to GBP 30). Customers can also manage their accounts through online banking and avail of paperless statements.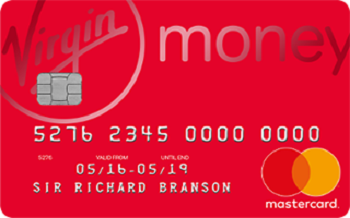 Getting a Virgin Money All Round Credit Card
Prospective customers can get their hands on the Virgin Money All Round Credit Card using their online application form. The bank reminds applicants to ensure that they satisfy all the eligibility criteria. This includes being 18 years old or above, as well as having UK residency, UK bank or building society account and great credit background. The bank sets a minimum income of GBP 7,000 or a household income of at least GBP 15,000.
However, applying customers need to take note that their applications will not be approved if they are bankrupt, in an IVA, have CCJs or have a history of defaults. People without any credit history will also be denied.
Credit limits depend on the customer's financial and credit status. There is no minimum limit, while the maximum will vary depending on individual situations.
Virgin Money All Round Credit Card Fees and Charges
The bank does not charge annual fees in order for customers to use this card. Nonetheless, consumers will need to pay interests. Interests for card purchases, balance transfers and money transfers have an introductory promotional rate of 0% for 26 months. However, monthly rates of 1.4566%, 1.5977% and 1.7366%, respectively. For cash advances, there is no introductory rate and will be charged 2.0751% of the amount.
Customers are encouraged to pay on time as there is a GBP 9 charge for late payments.
The various offerings Virgin Money has gives consumers a chance to pick the card best suited for their needs and wants. With the All Round Credit Card, cardholders have an account they can use in various daily and travel needs without worries. For interested individuals, visit the bank's website to find out more about their offers.