Knowing the steps to take in applying for your visa classic credit card takes away the trouble that you might run into if ignorant. If you want a reliable, convenient and globally accepted credit card, then visa classic is your best option. Visa credit cards are notable for being really beneficial and rewarding to customers.
In order to get by with your daily expenses, you need a suitable payment card. The visa classic card is simple and flexible to users of all kinds around the world. This payment card serves all your basic functions from ordering a product online, making bookings, renting a car and so on. A Visa Classic card is suited with benefits to meet all these needs.
How to Apply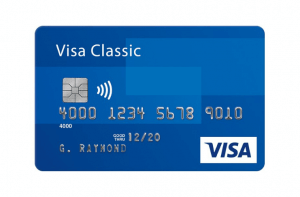 You can apply for your visa classic card online in very easy laid out steps.
First, you need to visit the Visa website by clicking on the link. 
After you have done this, you simply need to opt for any of the laid out Canadian financial institutions that offer visa classic cards and apply online. These financial institutions include; Canadian Imperial Bank of Commerce, Chase Canada, Home Trust Company, Laurentian Bank, Desjardins, Royal Bank of Canada, Scotiabank, TD Canada Trust.
Financial Institutions that offer the Visa Classic Card
From here, you can click on any of the listed institutions and select your preferred way of applying. If you want to apply online, you can do this easily by yourself in a few minutes. You would be required to follow the given directions and provide relevant and accurate information. If you do not want to apply online, or you have some questions while applying you can always reach out to the bank representative via the contact provided.
Take note of the Special Offers and Benefits of the Visa Credit Cards
Since there are a number of Visa Credit Cards, each with special offers and benefits, you should be very sure about which one suits you best before applying. Consider your daily spending activities and how the Visa Classic card may serve you best.
Also, in applying for your Visa Classic card take note of all the directions and ensure they are accurately detailed, so as to avoid your card approval getting delayed or declined. By applying from any of the registered financial institutions, you get guided on which credit card best suits you based on your financial lifestyle. You can also compare the various cards or start an immediate application. You can also view all the card details to be sure about your choice. This entails checking out the categories and rewards on travel, the cash back, interest rates, student option and other information. You can equally have more understanding of how the credit card generally works by checking the frequently asked questions too.  
Get started today and apply for your Visa Classic Credit Card promptly and with ease. The earlier you apply, the earlier your card gets to you, and the earlier you start to enjoy the many benefits of Visa Classic.