American Express targets frequent travellers who want to maximize their trips while earning cash backs and rewards with its Platinum Travel Credit Card.
Through this card, the New York-based credit card company enables its cardholders to get the best deals in their flight and hotel reservations anywhere in the world. Cardholders can also use this product for making in-store or online purchases worldwide.  Moreover, they can accumulate cash back and reward points which they can later convert to free flights and discounts.
American Express Card Types
Interested customers can select from a variety of American Express credit cards in India. Each of these aims to cater to the specific spending needs and behaviours of its customers. Apart from credit cards, potential customers can also avail charge cards.
American Express does not charge interest to its charge card customers as it expects them to pay the overall balance every month.
The Amex Platinum Travel Credit Card is one of the card issuer's middle-level products designed for professional or leisure travellers with many advantages and perks for customers such as the ones written below.
Amex Platinum Travel Credit Card Benefits
As a welcome gift from American Express, cardholders will receive 5,000 Bonus Membership Rewards Points that they can receive upon paying their first annual fee. But to qualify for this incentive, they should have spent INR 5,000 within 60 days of card membership.
Customers can also get more than INR7,700 worth of travel vouchers if they spent INR190,000 in a year. If they can spend at least INR400,000 in a year, they would also receive additional coupons worth more than INR11,800 and a Taj Experiences Gift Card worth INR10,000.
Aside from becoming a complimentary member of Priority Pass, American Express Platinum Travel Credit Cardholders can also enjoy up to four complimentary visits every year to 11 airport lounges across India.
What's more, they can avail up to 20% discount at select premier restaurants with the American Express Selects Dining Programme.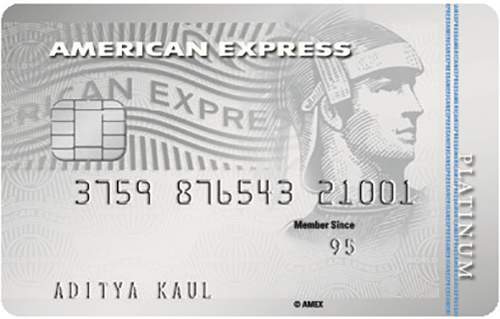 Amex Platinum Travel Credit Card Application Process
Those who are interested in ordering the Amex Platinum Travel Credit Card can fill out the application form on their website. American Express only considers applicants who are over 18 years old and an Indian citizen or permanent resident, and have a minimum annual income of INR600,000. They also must have a good credit standing with no history of defaulting payments. American Express may ask proof of identification and proof of income from applicants.
Amex Platinum Travel Credit Card customers can have a credit limit of around INR100,000, which can go higher or lower depending on their credit history and financial capacity.
Fees and Interest Rates
For the first year, cardholders should pay INR3,500 for the first year and INR5,000 from the second year onwards. The card issuer also charges a cash advance fee worth INR 250 or 3.5% of the withdrawn amount, whichever is higher.
This card has an interest rate of 3.35% every month or 40.2% every year.
Overall, Amex Platinum Travel Credit Card is ideal for customers who want to maximize to get travels perks and privileges from their card.