ICICI Bank teamed up with MakeMyTrip in 2018 to offer a credit card that caters frequent travellers with average income — the MakeMyTrip ICICI Bank Platinum Credit Card. This Visa-powered credit card enables its customers to earn multiple rewards and benefits when making airplane and hotel reservations and shop on any online and in-store merchants.
ICICI Bank Credit Cards
ICICI Bank offers a wide variety of credit cards to its consumers, each aiming to suit their distinct spending habits and way of living. These are divided into various categories such as lifestyle, travel, fuel, and sports. MakeMyTrip ICICI Bank Platinum Credit Card belongs to the travel category.
With the MakeMyTrip ICICI Bank Platinum Credit Card, customers can receive many privileges and perks from their travels. Here are some of its benefits.
MakeMyTrip ICICI Bank Platinum Credit Card Benefits
Upon joining, cardholders can receive INR500 My Cash Plus complementary voucher and INR2,000 Lemon Tree Hotels voucher. Aside from these, they can customers can enjoy benefits amounting to INR20,000.
Holders of MakeMyTrip ICICI Bank Platinum Credit Card can also have access to the domestic airport and railway lounges.
Those with annual savings of up to INR6,000 with the Buy 1 Get 1 BookMyShow ticket for free at any day of the week. They can also get up to 2 free tickets every month amounting to up to INR250 each.
They can also enjoy one complimentary railway lounge access in every quarter to any participating lounges in India.
However, for customers with average income, they might need to spend beyond their means just to avail these perks.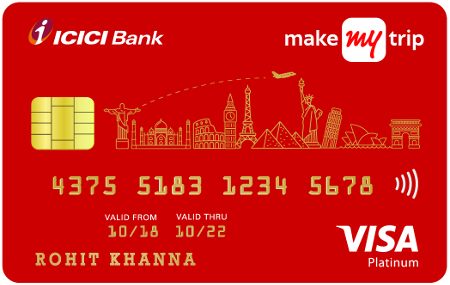 MakeMyTrip ICICI Bank Platinum Credit Card Application Process
Interested applicants should fill out a form on the ICICI Bank website. Once submitted, a bank representative will contact them to ask for additional details and other requirements. As for the card's requirements, the bank requires applicants to show proof of identity that they are 23 years old and above and a citizen or permanent resident of India. Another ICICI Bank requirement is card applicants must have a yearly income of over INR250,000 per year. Usually, the bank only considers customers with a good credit standing.
Upon approval, ICICI Bank will give its MakeMyTrip ICICI Bank Platinum Credit Card customers with a credit limit of around INR50,000. This amount may get higher or lower depending on the customer's credit history, income, and spending behaviour.
Fees and Interest Rates
Cardholders should pay an annual fee of INR500. They should also be mindful of the cash advance fee worth INR300 or 2.5% of the amount per transaction, whichever is higher; and a late payment fee ranging from INR0 to INR750, depending on the balance.
As a welcome gift, customers can have an interest-free period of 18-40 days, after which they should pay interest of 3.40% per month or 40.85% per year.
All in all, MakeMyTrip ICICI Bank Platinum Credit Card targets Indian citizens or residents who want to get huge travel and leisure discounts. However, they may need to stretch their budget to avail these advantages.