Credit cards are man's best friend these days, with online shopping being entirely common and unsurprisingly in-demand. If you're constantly shopping online and wanted a decent card to use for easy payment, the SBI Simply Click Credit Card is suited for you. It claims to give cardholders 10x points upon shopping at partner online stores plus a welcome bonus of Amazon voucher worth Rs 500. While this is true, getting approved for this card requires you to have a high credit score and good credit history.
If you're interested to find out how you can apply for this card, read on.
Features of the SBI Simply Click Credit Card
Since the SBI Simply Click Credit Card is a rewards card, you can expect lots of privileges only available for cardholders. For example, you can enjoy up to 2.5% of fuel surcharge at Indian petrol pumps when paying using the card. In addition, you can get an e-voucher worth Rs 2,000 on annual online spends amounting to 1 lakh.
This card can also be used worldwide since it is powered by Visa. You can withdraw cash worldwide and get cash whenever you need it.
For those who love to shop but hate to pay in full, this card allows monthly instalments for bigger purchases using the Flexibpay. This is only applicable for purchases Rs 2,500 and above.
While this card boasts of a myriad of features, one thing is only special here which is the 10x points you can earn every time you shop online. Hence, if you're not constantly on Amazon and any other online stores, this isn't the card for you. There are more credit cards in the market which also lets you earn more points not just on online transactions.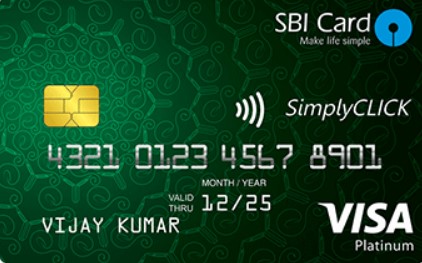 SBI Simply Click Credit Card Application
To get access to the features of this credit card, you need to submit an application on the SBI Card website. For your application to be successful, you need to be at least 21 years old and have a consistent monthly income, minimum of Rs 300,000 per annum. SBI also looks into your credit history, so you need to have a good one plus a decent credit score.
Also, note that SBI does not offer credit cards to people whose address is not serviceable. You need to call their hotline to check if your area is covered by SBI.
For the credit limit, you will be given a minimum amount of Rs 10,000 to Rs 50,000 or higher, depending on your background.
Fees and Charges of the SBI Simply Click Credit Card
This credit card does have an annual fee of Rs 499 but if you've made transactions amounting to Rs 100,000, the amount is automatically waived. The interest rate is also low at 3.35%  per month and 40.2% per annum. However, if you will not pay on time, there will be an additional 10% charge for late payment and another 10% for a cash advance.
Overall, the SBI Simply Click Credit Card is a great card for those who love to shop online. If you'd rather shop in physical stores, you cannot take advantage of the features of this card.