Yes Bank offers a Preferred Credit Card for customers who wish to gain exclusive privileges and rewards. Aside from a wealth of benefits, it also provides a comprehensive rewards program, complimentary lounge access, and insurance coverage.
The Yes Bank Preferred Credit Card is a great choice for users who want to experience discounts and attractive interest rates. To find out what this credit card has to offer, read on.
Yes Bank Preferred Credit Card Features and Benefits
One of the enticing features highlighted by Yes Bank in their Preferred Credit Card (available in Mastercard) is its excellent rewards system. For one, a welcome bonus will be given to new customers amounting to 15,000 rewards points. Bear in mind that to be eligible for this welcome bonus, the first transaction must be done within the first 90 days of the card set up. Cardholders can also enjoy a renewal benefit of 10,000 reward points for each renewal.
In addition, users are also eligible to earn 8 reward points for every INR 100 spent on retail. Should customers spend at least INR 7.5 Lakhs every year, they are entitled to earn 20,000 bonus rewards points. These points can be redeemed as JPMiles (4 reward points = 1 JPMile) or for other rewards such as hotel accommodations, movie ticket bookings, and many more. Lifestyle benefits including travel, dining, shopping, wellness, and more in select cities.
Cardholders will also be given some of the most attractive interest rates in the country, ranging from 1.99% to 2.59% per month. In addition, a fuel surcharge waiver will be given for users. To avail of this promotion, transactions must be between INR 400 to INR 5,000.
Users will also be provided with a life insurance cover of INR 1 Cr for death due to flight accidents and medical insurance cover of INR 25 Lakhs for emergency hospitalization when travelling overseas.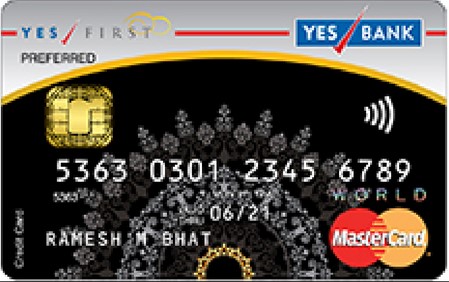 Applying for a Yes Bank Preferred Credit Card
Application for a Yes Bank Preferred Credit Card can be done by applying online or by going to a nearby branch. To be eligible for this credit card, applicants must be between the ages of 21 to 60 years old, with a minimum net salary of INR 200,000 per month or an income tax return of INR 24.00 Lacs and above.
Documents that need to be prepared upon application include applicant's PAN card, proof of address, proof of income, and passport-sized photos.
If approved, cardholders will be given a credit limit starting from INR 1,000.
Yes Bank Preferred Credit Card Fees and Charges
This credit card has an annual fee of Rs. 2,500. Other charges that customers should take note of include the monthly interest rate starting from 1.99% to 2.75% depending on the applicant's credit standing.
Payments for delayed payments will also incur a late payment charge ranging from Rs. 100 to Rs. 700. A cash advance fee of 2.5% will also be applied for the transaction amount used.
A Yes Bank Preferred Credit Card is the best pick when it comes to favourable interest rates and an excellent rewards program.