For people who want a basic credit card for balance transfer and daily expenses, the Barclaycard Platinum Credit Card is a great choice. For quite some time, Barclays Bank has been offering this product for average customers, which they can use for online and in-store shopping. They can also use this Visa-powered card for flight and hotel reservations in virtually any destinations.
Barclaycard Credit Cards
Barclaycard has an extensive set of credit cards intended to satisfy the needs and lifestyles of different customers with unique spending habits. Barclaycard divided its products into four categories—Purchase, Rewards, Credit Building, and Balance Transfer, wherein the Barclaycard Platinum Credit Card belongs.
The Barclaycard Platinum Credit Card caters to people who want to get a card with lower interest. Aside from this perk, cardholders can get many advantages and privileges.
Barclaycard Platinum Credit Card Benefits
Upon the opening of the account, cardholders will enjoy up to 0% interest on purchases for 27 months. They are also entitled to interest-free balance transfers for 27 months from the date of account opening. However, they must pay a 2.7% fee.
Customers also have ongoing access to Experian for regular checking of credit score. Moreover, they can have access to Barclaycard's online banking tool and mobile app to manage their account
They can also receive exclusive discounts and privileges on live events with their family and friends with Barclay Entertainment.
However, since this card is intended for balance transfers and financial management, it lacks rewards and cash back features provided by other cards.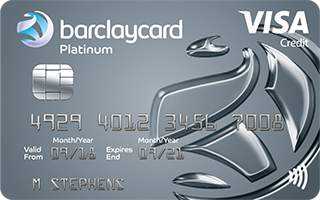 Barclaycard Platinum Credit Card Application Process
Interested applicants can apply for the Barclaycard Platinum Credit Card online. After submitting the online form, a representative may request them to present proof of identity that they are aged 21 and above and a UK citizen or resident for at least three months. For this credit card, Barclaycard only considers applicants with a yearly income of more than GBP20,000 and has a good credit history and standing.
Once approved, holders of Barclaycard Platinum Credit Card will get a credit limit of around GBP1,200, which may be higher or lower based on their creditworthiness, financial condition, and spending pattern.
Fees and Interest Rates
The Barclaycard Platinum Credit Card has no annual fee. This card also has different fees such as cash advance fee worth £2.99 if the amount withdrawn is less than £100 or 2.99% of the amount if the transaction is more than GBP100. They must also settle a late payment fee worth GBP12.
The Barclaycard Platinum Credit Card has a yearly interest rate of 19.9% which will be charged to the customer once the 27-month interest-free promo has elapsed.
In summary, the Barclaycard Platinum Credit Card is ideal for balance transfers and credit management. It is not a card of choice for frequent travellers and spenders. Barclaycard advise people who want rewards, cash back, and travel perks to choose one of its other products that will better suit their spending habits and lifestyle