Debenhams is a premier shopping centre in the United Kingdom. Today, it offers more than clothing and retail items, expanding its range to the banking industry. Under their company, the Debenhams Credit Card is targeted towards individuals who are not only frequent shoppers but also those who value rewards with every swipe.
Bearing a comprehensive rewards system and 0% interest on furniture buys and balance transfers, the Debenhams Credit Card is certainly worthy of attention. To know more about what this card has to offer, read on.
Debenhams Credit Card Features and Benefits
Powered by Mastercard, the Debenhams Credit Card brings customers a wide range of rewards with every transaction. Whether it's shopping at the grocery, department store, or from a Debenhams store, this credit card is sure to be accepted at over 36 million locations worldwide.
Through this initiative, cardholders can earn 3 points for every £1 spent at Debenhams. For all other spends outside of this establishment, users are entitled to earning 1 point for every £2 spent. Accumulated points will be converted into Debenhams Reward Vouchers every 3 months. This allows customers to spend their rewards in any way they wish.
As part of their welcome offer, Debenhams will treat their customers an introductory reward equivalent to 500 Bonus Points, giving users a £5 Reward Voucher to redeem.
With the Debenhams Credit Card, cardholders are also entitled to use their 0% interest furniture offer for 12 months. To avail of this promotion, users can simply spend £500 or more on furniture from a Debenhams store or through their online catalogue.
Similarly, balance transfers will be given at a 0% interest for 12 months. This promotion will be valid for 12 months if the transfers are completed within 6 weeks of opening the account.
Other perks that come with this account includes free delivery on purchases, discounts on dining and travel, access to exclusive events, and many more.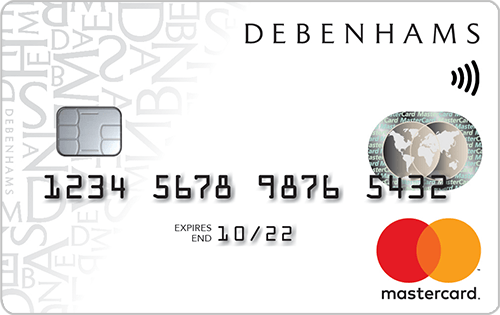 Applying for a Debenhams Credit Card
Potential clients can course their applications online or through a branch near them. To qualify, applicants must satisfy the qualifying criteria. These include being over the age of 18 with a regular income, bearing a UK bank account, home address, and a mobile number, and must be a permanent UK resident residing in the UK for at least 12 months.
Documents that will be asked from applicants include employment details, income information, and other relevant personal information. If approved, customers will be given a credit limit starting from £500.
Debenhams Credit Card Fees and Charges
There is no annual fee for the Debenhams Credit Card. However, the APR on this card ranges from 24.9% to 39.9% depending on individual circumstances.
Other fees that will be charged to a cardholder's account include balance transfer fees of up to 5% of the amount transaction, a late payment fee of £12, and an over-limit fee of £12.
Overall, the Debenhams Credit Card is a worthy choice for people who are fond of getting rewards and exclusive perks.