The Nationwide Credit Card is a great option for individuals who are looking to maximise their savings. This credit card boasts of an introductory offer of no interest fees, no balance transfer fees, and easy account opening. Powered by Visa, this all-in-one credit card offers customers exclusive privileges from the time of opening their account.
The Nationwide Building Society offers the Nationwide Credit Card at no annual fee. For more information about this credit card, read on.
Features and Benefits of the Nationwide Credit Card
The Nationwide Credit Card highlights its no balance transfer fee feature. As part of the company's introductory offer, cardholders can enjoy a no balance transfer fee period. This is applicable for the first 3 months of opening the user's account. Bear in mind that after the promotional period, the balance transfer fee will revert to the normal charge of 2.4%.
Another inclusion under the welcome offer is the introductory interest rate. For the first 12 months from the date of account opening, users can enjoy 0% interest on purchases.
Apart from these offerings, customers will also be given access to exclusive cashback offers through the Simply Rewards program. Cashback offers are applicable through online shopping and high street partner establishments. Users are also extended a commission-free allowance they could use abroad. This allowance accumulates when customers purchase items in pounds sterling.
On top of these, there are no annual fees for the Nationwide Credit Card. As part of Nationwide's customer protection, users can track and manage their money through the free banking app. To check balances and view statements, cardholders can log on to their account online.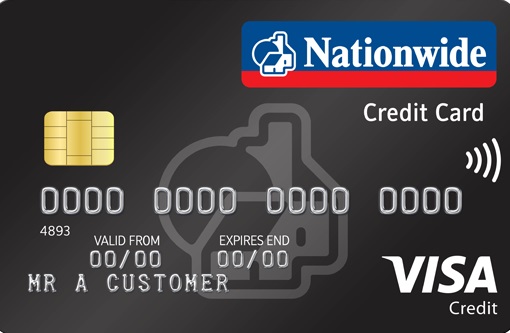 Application for a Nationwide Credit Card
Customers intending to request the Nationwide Credit Card can simply apply on-site via the online submission form. Otherwise, interested applicants can course their applications to a branch nearest them.
To be eligible for application, applicants must be over the age of 18, must be a resident of the United Kingdom, and have an annual minimum income of £5,000. They must also be a Nationwide member holding a current, savings, or mortgage account to open a credit card plan. Likewise, applicants must not have declared bankruptcy, missed more than three payments, and must generally have a decent credit score.
Documents that will be asked from interested applicants include proof of valid identity, proof of address, employment information, and financial statements.
Approved applications will be given a credit limit starting from £500.
Fees and Charges of a Nationwide Credit Card
The Nationwide Credit Card requires no monthly or annual fees. Under this card, customers will be given a representative APR ranging from 17.9% to 19.9% depending on creditworthiness.
Balance transfers will incur a 2.4% fee (with a minimum of £5) after 3 months of account opening. In addition, there is also a cash advance fee at 2.5% (with a minimum of £3) and a late payment fee of £12.
The Nationwide Credit Card is the perfect choice for individuals who are looking to maximise their savings whilst still earning points. Aside from being offered introductory rates on balance transfer fees, customers can also gain access to exclusive discounts and privileges.